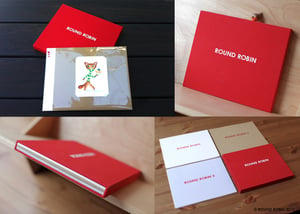 $

150.00
Spring 2012
ROUND ROBIN canvas bookcase, with a foil stamped title in the front, each contains 1 original bookplate paintings ( 3.5x4.5") and 3 ROUND ROBIN books, approx. 7 x 8.5" in size.
Limited numbers available, all 3 books are signed, sketched and numbered!
*Please check ROUND ROBIN blog for the bookplate options, and contact us by e-mail for your preference.